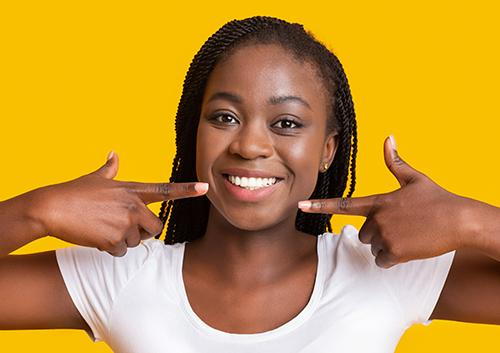 When we were small, a loose tooth wasn't a reason to be worried. On the contrary! It was a time to celebrate: A permanent tooth on the way. A sign that you were growing up. Perhaps even a lucrative visit from the Tooth Fairy. Losing a baby tooth had quite a few benefits.
Now that we're grown, no such benefits are in store for us, because a lost adult tooth is gone for good. That's why any time you notice a loose tooth you need to call the doctor immediately. With prompt dental care, that tooth might be saved.
But first, a word about how our teeth stay firmly rooted in the jaw.
The visible part (crown) of a tooth is protected by a layer of enamel. The root below is covered with a protective layer called cementum.
There is a socket for each tooth in the alveolar bone of the jaw, where each root is firmly attached within the socket by the periodontal ligament which surrounds it.
This ligament is made up of connective tissue, which attaches both to the cementum covering the root and to the alveolar bone. It not only holds the tooth in place, it cushions the tooth from the daily pressure of biting and chewing.
The gums surround the teeth and bone, protecting them from bacteria.
If the tooth, bone, ligament, or gums suffer damage, the result can be a loose tooth.
Treating a Loose Tooth
The treatment you receive will depend on the reason your tooth is loose. There are many situations which can lead to a loose tooth or teeth, and many treatment options available to you. Some of the common causes and potential treatments include:
If you have suffered a tooth or jaw injury as a result of an accident or trauma, it's very important to see your dentist or doctor immediately. You should be carefully examined to determine whether there is damage to other teeth or the jaw. Serious tooth or jaw bone injury might require treatment by an oral surgeon.
In some cases of damage to the periodontal ligament or tooth, even if your tooth is loose or extruded (partially out of its socket), it can be stabilized in place so that the ligament and tissue around it has time to heal.
We'll make sure the root, nerves, and blood vessels are still intact, position the tooth back in its socket, and then anchor it to the adjacent teeth with a flexible splint for several weeks. In the case of an alveolar or a root fracture, a rigid splint may be used.
Splinting gives the periodontal ligament and bone surrounding it time to heal while keeping your injured tooth from further displacement.
Your teeth are designed to withstand a lot of pressure—in fact, in some ways, pressure is essential for healthy teeth and bone. The normal pressure of chewing and biting stimulates bone tissue in the jaw. When a tooth is lost, that stimulation is gone and the result is gradual bone loss in the area underneath the lost tooth.
But sometimes, the pressure exerted by a malocclusion (bad bite) or bruxism (tooth grinding) is too forceful. The connective tissue which holds the teeth in place is damaged by these forces, and loose teeth can be the result.
If you have a serious malocclusion, an orthodontist can provide the relief you need with braces or aligners. If your bite problem is caused by a tooth or teeth which are a bit too high, the enamel can be carefully contoured and reshaped. In some cases, splints, either temporary or permanent, can also be used to stabilize several adjacent teeth so that any biting or chewing force is spread over the section as a whole.
If you grind your teeth, a night guard can be custom fitted to provide relief from the pressures and impact of tooth clenching and grinding. This special kind of mouth guard is known as an occlusal splint.
Osteoporosis causes a loss of bone density throughout the body. Studies suggest that this disease can affect bone in the jaw, leading to weaker bone and looser teeth. Your physician will provide your best medical alternatives, and be sure to let us now if you are taking medication for osteoporosis before we plan your dental treatment.
Gum disease is one of the major causes of loose—and lost—teeth. Early gum disease, called gingivitis, should be treated promptly to avoid a more serious condition called periodontitis. Periodontitis can cause the gums to pull away from the teeth, creating pockets for bacterial growth and infection. Left untreated, this infection results in connective tissue and bone loss.
If you have serious gum disease, we might suggest a visit to a periodontist, a specialist trained in the treatment of the gums, periodontal ligaments, and bone surrounding the teeth. Deep cleaning procedures such as scaling and root planing, topical and oral antibiotics, and oral surgeries such as flap surgery or bone and tissue grafting can help reverse the effects of periodontitis. Bone loss cannot be reversed, but a graft can replace lost bone and allow healthy tissue to regenerate.
Hormonal changes can cause the ligaments and bone around your teeth to loosen, which can lead to loose teeth. While this might be an alarming development, it's generally a temporary condition. Talk to us about how to take care of your teeth and gums during your pregnancy.
Hormonal changes can also make your gums more vulnerable to irritation and infection. In fact, swollen and tender gums are often one of the first signs of pregnancy. That's another reason it's very important to keep up with dental hygiene during pregnancy. If your gums are red, swollen, bleeding, or tender, give us a call. A periodontist can be especially helpful if gum problems persist.
What to do if you have a loose tooth
Call us immediately. Timely professional care can mean the difference between saving your tooth and losing it.
Avoid wiggling the tooth. This could loosen it further.
Protect your loose tooth. Eat soft foods, and try not to chew near the affected area. And while a liquid diet might sound like a good idea, no straws, please. Straws require suction, which can further dislodge your tooth.
Keep the area clean, gently.
What to do if a tooth can't be saved
Baby teeth become loose and fall out because the permanent teeth coming in erode the smaller roots holding them in place. That's why it's so easy for parents to help their child's wiggly baby tooth find its way from mouth to Tooth Fairy.
Adult roots, however, involve alveolar bone, ligaments, blood vessels, and nerves, so an extraction really needs to be done by a professional. We will also examine you carefully to discover the reason for the tooth loss, and to prevent further damage with additional treatment as needed.
Finally, if you do lose a permanent tooth, there is still much that can be done to restore your smile. Modern implants are almost indistinguishable from natural teeth, and, what's more, they function just like natural teeth to stimulate the bone beneath them.
If you have any worries about your teeth, contact our Ellwood City, Pennsylvania office. A loose tooth is never a cause for celebration, but, with proper dental care, a loose tooth doesn't always lead to a lost tooth. Restoring a firm bite and a heathy, confident smile? That's a reason to celebrate!