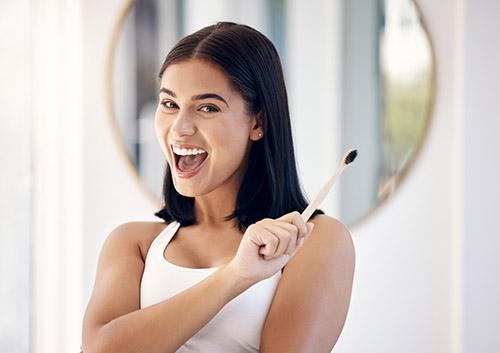 October 31—Halloween. Fourth Thursday in November—Thanksgiving. And, in between these two favorite autumn holidays, we have November 1—National Brush Day!
Okay, okay. Maybe National Brush Day isn't quite as well-known as Halloween or Thanksgiving, but we take any opportunity to celebrate your dental health. So, let's celebrate brushing!
After all, brushing is vital for healthy teeth and gums.
Brushing is your first line of defense against plaque. Plaque forms all day long. Plaque sticks to your teeth. Plaque is filled with bacteria which produce cavity-causing acids. Brushing regularly means plaque won't stay on your teeth long enough to cause serious tooth decay.
Brushing is also important for your gum health. Angling your brush to carefully clean plaque and bacteria away from your gum line helps prevent gum disease.
Tooth decay is the most common chronic disease among children and young adults. The leading cause of tooth loss in adults is gum disease. Good brushing habits help prevent tooth decay and gum disease—a win/win when it comes to your oral health.
To make the most of the time you spend brushing, let's take a moment to review some basics on National Brush Day.
Are You Brushing Correctly?
Big, broad brushstrokes aren't the answer. Instead, use small up-and-down or circular strokes over each tooth and each tooth surface—outside, inside, and on the flat surfaces of your molars.
Because plaque forms all day, you need to keep on top of it. Brushing at least twice a day for two minutes each time is a good general rule. the doctor will let you know the best brushing schedule for your individual needs.
Brushes are meant to clean, not to scrub. You don't need a heavy hand for cleaner teeth.
Which also means, there's almost never a good time to brush with a hard-bristled brush. Hard bristles, along with hard brushing, can actually damage your enamel and gum tissue. Stick to a soft-bristled brush for dental TLC.
Are You Taking Care of Your Brush?
To clean away bacteria and viruses you might have picked up during the day, wash your hands before brushing and flossing.
Shake your brush dry when you're finished and then let it air dry upright with the handle pointing down. Only use a case for travel, and make sure it has air holes for ventilation. (Bacteria thrive in a wet environment.)
If your toothbrush lives in the bathroom, close the toilet seat before flushing to avoid airborne particles.
No matter how close you are to your family members or roommates, don't share your toothbrush. Sharing doesn't mean caring in this case—it means sharing germs. Your brush should keep a healthy distance from other brushes as well.
And no matter how fond you are of your brush, be prepared to replace it often! Most brushes last three to four months at best, because bristles start to fray and can't clean effectively after several months of use.
It's no coincidence that National Brush Day comes right after Halloween, the most sugar-filled holiday of them all. So, how can we mark the occasion?
Treat yourself to a new toothbrush! Take a moment to review your brushing habits. If you have young children at home, spend two minutes brushing together to make sure they're brushing effectively–they might even have some tips for you! Brushing your teeth properly is one of the easiest things you can do to protect your oral health. That's something to celebrate!