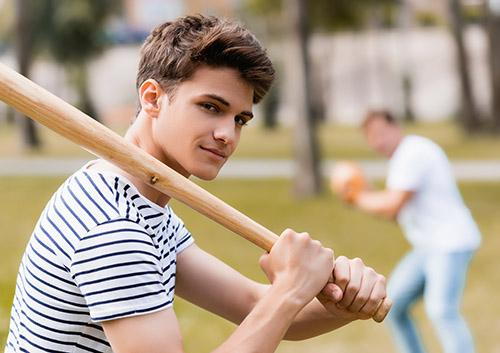 Oh, wait—did you think we meant Designated Hitter? Oh, no, we're not getting into that debate! What we want to talk about is the best Dental Habits you can practice when you're on and off the field.
When It Comes to Safety, Touch All the Bases
Basic baseball vocabulary lets you know it's a tough sport. Brushback. High heat. Slide. Line drive. Hit-by-pitch. Not surprising, when it's a game where weighty bats meet balls thrown at incredible speeds. Or where players slide into bases and stop line drives. So protect yourself. Wear a batting helmet. Use protective gear. And get yourself a mouthguard!
You can choose a one-size-fits-all stock guard, or a "boil-and-bite" model which fits a bit more closely to your teeth and mouth. But your best protection comes with a custom mouthguard. Custom guards are more comfortable, more durable, and make it easier to speak and breathe. If you or your young player wear braces, mouthguards are especially important to protect both teeth and orthodontics.
Ball Park Snack Power Hitters
Sure, you're not trying to match Babe Ruth's hot dog-eating habits (a dozen dogs between two games of a doubleheader!), but we can set the bar higher than that. While it's easy to rely on energy drinks, soft drinks, power bars, and other sugary and acidic treats to get you through nine innings, those sugars and acids put you at risk for cavities and enamel erosion.
Fresh fruits with peanut butter, vegetable sticks with hummus, cheese and whole grain crackers, yogurt, or lean meat with whole grain wraps—these and many other snacks can provide you with protein, healthy carbs, and natural sugars for an energy boost during a long game or practice. If you choose an energy bar for refueling, look for one without all the added sugars.
Hydrating is always important whenever you're working out. And, while you can look for power drinks and energy drinks which are low in sugars and acids, a refillable water bottle is an easy, inexpensive, and effective form of hydration. Bonus: water helps wash away food particles and bacteria and helps neutralize acids in the mouth by maintaining saliva production.
A "no-no" is a no-hitter to baseball fans. But for your oral health, the most important no-no of all refers to tobacco.
Chewing tobacco is one of those old-time baseball cliches which we're not nostalgic about. Chewing tobacco greatly increases the risk of neck, head, and mouth cancers, particularly oral squamous cell cancers. Don't start the chewing tobacco habit—or any other tobacco habit, for that matter. If you do use tobacco, ask the doctor for tips on quitting. Keep up with regular dental exams at our Ellwood City, Pennsylvania office for early detection of any potential warning signs of oral cancer.
When it comes to your dental safety, don't get caught looking. For your best performance on and off field, avoid errors like playing without a mouthguard, exposing your teeth to acids and extra sugars, and using dangerous tobacco products of any kind. Play ball!